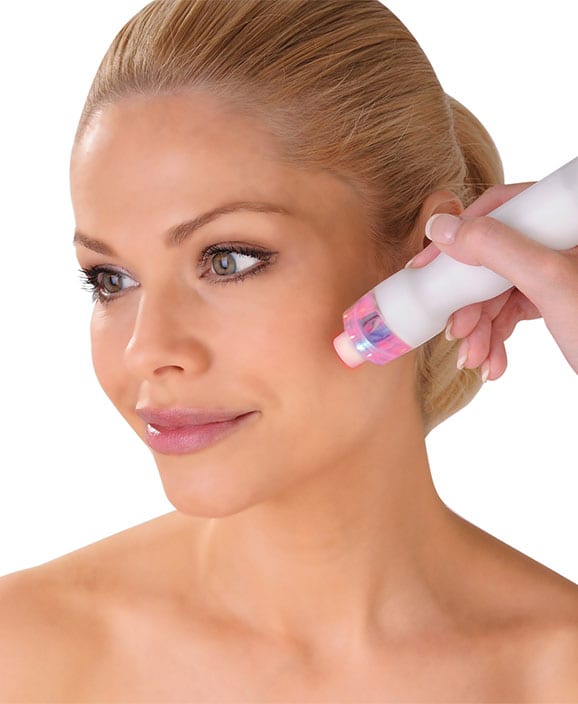 You're wise to consider non-surgical treatment in the first instance; the lifting and toning results achieved by the most advanced systems can be truly remarkable. The award-winning 'CACI Ultimate' facial is one such treatment which offers a comprehensive range of advanced technologies to smooth, firm and tighten the skin.
So what exactly is a CACI Ultimate facial?
The result of over 20 years research, the CACI Ultimate facial has been voted the most effective anti-ageing treatment available and is the only treatment system to combine CACI bio-electrical facial toning, crystal free orbital microdermabrasion and LED light therapy. Using tiny 'micro' currents the system stimulates muscle tone, enhances skin tissue and restores form and vitality to facial muscles, whilst microdermabrasion and LED light therapy brighten and even the surface of the skin, softening lines and wrinkles and improving the texture and tone.
How is the treatment carried out and how does it feel?
CACI Ultimate facials are carried out using a specialist system and may only be performed by fully trained therapists. Treatment is safe, painless and according to the majority of clients, often wonderfully relaxing.
How long will the results last?
Although a difference is often noted after just one treatment, for optimum results a course of ten treatments taken at regular intervals is recommended with periodic maintenance treatments thereafter.
How much does treatment cost?
A 90 minute CACI Ultimate facial costs £70, with a course of ten treatments priced at £630. For maximum benefit and just £10 extra, a Hydratone intensive hydration mask may be added to the treatment.
How can I find out more?
The groundbreaking treatment will be available here at Coppergate Clinic by the end of February 2016, after which time we welcome you to visit the clinic to experience the anti-ageing results of the treatment for yourself. In the meantime, contact us to find out more – we'd love to hear from you.