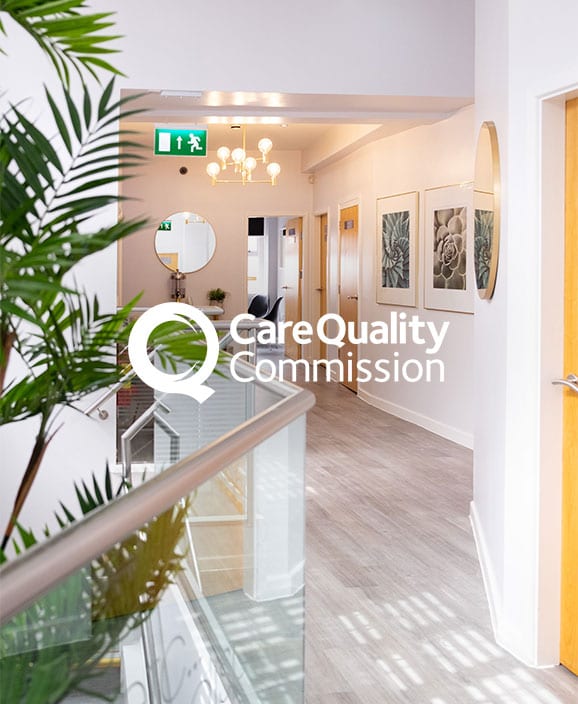 Whilst Coppergate Clinic has been Care Quality Commission-registered since we began offering cosmetic surgery within the practice several years ago, it wasn't until February 2022 that we welcomed our first CQC Inspectors through the clinic doors to evaluate our services. 
It was a busy but interesting day, during which the inspectors reviewed all our processes and protocols, speaking to all members of our team and several of the patients they met in and around the clinic. Following the visit, the inspectors compiled a detailed report of their findings, and our team were thrilled to learn the clinic had been awarded an 'outstanding' CQC rating – the highest possible – for patient care.
Many patients have heard of the Care Quality Commission, but fewer know exactly who they are or what they do. We're often asked questions regarding CQC status, so thought it was a great time to answer some of the most frequently asked of these, as well as sharing and celebrating the (outstanding!) ratings Coppergate Clinic was awarded in the official CQC report.
What is Care Quality Commission and what does it do?
The Care Quality Commission (or CQC as it is often known) is the independent regulator of health and adult social care in England. As a body, the Care Quality Commission standards ensure health and social care services provide people with safe, effective, compassionate, high-quality care by monitoring, inspecting, and regulating services. Following every inspection, the CQC publishes their findings, giving simple performance ratings to help people choose care. Because the reports are released into the public domain, patients comparing practices can use the ratings and more detailed findings to help make an informed decision on where to turn for a particular service or procedure. 
Who needs to register with the CQC?
Any person (individual, partnership, or organisation) who provides regulated activity in England must be registered with the Care Quality Commission. To be registered, applicants must provide details of the regulated activities they intend to carry out and from where. The CQC assesses each application and must be satisfied with the applicants' fitness and compliance with the requirements of the relevant regulations for registration to be granted. In terms of cosmetic surgery providers, by law, services must register with the CQC if they offer any of the following procedures or services:
Cosmetic surgery that involves instruments or equipment being inserted into the body – this includes

breast surgery

,

facelifts

, buttock or

thigh lifts

, eyelid or brow surgery, nose surgery,

tummy tucks

or any procedure where an implant is used

Liposuction

– this includes Laser lipolysis (such as Smart Lipo)

All types of thread lifting – for example, polydioxanone (PDO) and poly-L-lactic acid (PLLA) thread lifting
What CQC ratings can a practice be given and what do they mean?
In most cases, CQC inspection reports include ratings. These can help patients to compare services and make choices about care. There are four ratings that are given to health and social care services: outstanding, good, requires improvement and inadequate. In their own words, the CQC celebrates good care and champions outstanding care, meaning all health and social care settings should be measuring their level of service by these benchmarks.
Outstanding – awarded only where a setting is performing exceptionally well.

Good – awarded to a setting that is performing well and meeting stringent Care Quality Commission standards and expectations.

Requires improvement – awarded to a setting that is performing below expectation. In this scenario the CQC will issue minimum improvements that must be made for the setting to remain on the register and to lawfully continue to practice.

Inadequate – awarded where a setting is performing badly and the CQC has taken action against the person or organisation that runs it.
What CQC ratings was Coppergate Clinic awarded?
Following their visit to Coppergate Clinic in February, the CQC deemed us to be achieving a consistently 'good' standard of care, meaning the clinic is performing well and meeting their expectations in providing safe and effective services that are responsive to people's needs and are well-led. Over and above meeting the CQC's expectations in these areas and as a setting overall, Coppergate Clinic was awarded a rating of 'outstanding' for patient care. This fantastic accolade acknowledges the clinic's exceptional performance, recognising the team as having exceeded expectations in this area. The rating is both a great achievement and a clear reflection of our patient-centric approach.
What other feedback did Coppergate Clinic receive from the CQC?
There was a wide-ranging use of technology which facilitated efficient service delivery, streamlined information sharing for patients and staff, and a high standard of communication.

The service was flexible and responsive to people's needs. It was clear that staff and managers all strived for excellence in the care they provided.

Patient feedback was continually and overwhelmingly positive; patients felt truly valued and included, and said staff went the extra mile to provide a consistently high standard of care, from initial assessment to post-operative review.

The clinic had a focus on teaching and training delivery and had been invited to become a national training centre for a specialist surgical technique. It was also enrolled on the British Association of Aesthetic Plastic Surgeons (BAAPS) mentor programme to provide post-qualification plastic surgery training and was the only clinic of its kind to host the

BAAPS

training day.
To view and download the full report click here.
What do CQC ratings mean to me as a patient?
If you're considering any kind of cosmetic surgery, you'll want to make sure you receive safe, compassionate and high-quality care. The CQC takes much of the guesswork out of finding the right setting to perform your procedure by thoroughly investigating the facility and all aspects of the service and care being delivered. By speaking to the team and patients within a practice, CQC inspectors are able to build a comprehensive picture of the way a setting is run. The subsequent ratings awarded to a practice are a reliable reflection of the CQC's findings and an excellent way to compare one service provider with another. If a hospital or clinic is not registered with the CQC, it is possible they may be practising illegally, and their insurance may not cover them or you if anything goes wrong.
If you'd like to know more about any aspect of our patient services, or discuss the findings of our most recent CQC report, please do not hesitate to contact a member of our friendly team who will be delighted to assist you.