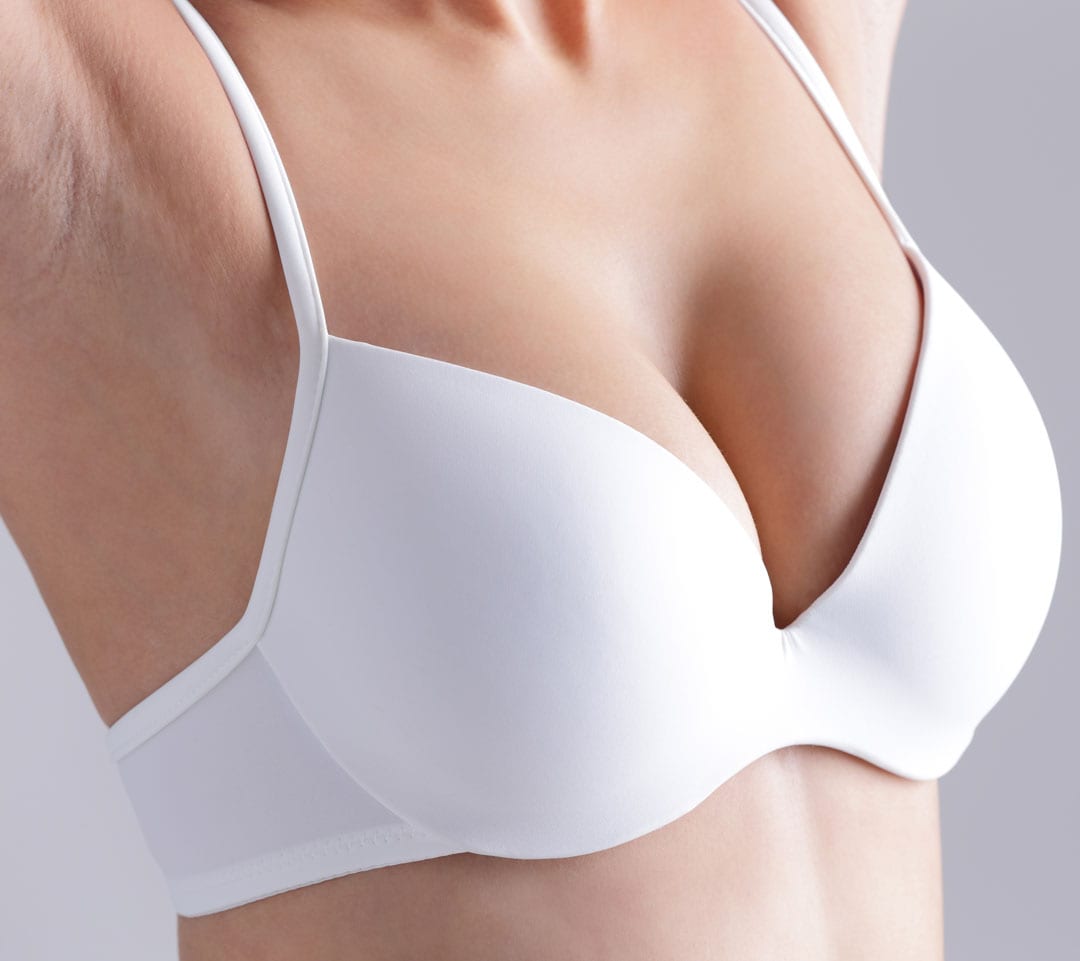 With the global demand for breast surgery continuing to rise, it's little wonder that phrases such as 'breast augmentation' and 'breast implants' have become familiar to many of us. But despite becoming part of our routine vocabulary, how many of us know what these phrases actually mean? And whether, for example, breast enhancement, breast enlargement, breast augmentation and breast implant are all one and the same? 
If you are unhappy with the size, shape and/or position of your natural breasts and are considering breast surgery, understanding this slightly confusing terminology is a great place to start. We've popped together a simple guide to help clarify what some of the most common breast surgery terminology means- and how to identify which, if any of the procedures, may be right for you.
What is breast augmentation?
Breast augmentation is a term used to describe the surgical enlargement of the breast, usually but not always, by inserting an implant beneath the breast tissue. Breast augmentation will enlarge breasts that have always been small, or fill out breasts that were once larger and have depleted in volume following weight loss, pregnancy or simply with age. Breast augmentation can also be performed to balance breasts that are naturally of unequal size, as well as to improve the shape of the natural breast. 
Whilst Breast augmentation is most commonly associated with the insertion of breast implants, the term can also be used to describe any other surgical enlargement of the breasts, including fat transfer to breasts.
What is fat transfer to breasts?
Fat transfer to breasts, breast augmentation fat transfer or fat grafting breast augmentation all describe the process of taking fat from one part of the body and re-injected into the breast to add volume. Whilst fat transfer is used to give more fullness to the breast, the procedure is ideally suited to someone desiring only a very subtle enhancement. 
Fat may be used in conjunction with an implant to add natural fullness. This complements the volume increase provided by a silicone implant and improves soft tissue cover over the implant- effectively helping to 'disguise' the implant.
What are breast implants?
Breast implants are artificial devices (protheses) surgically inserted into the breast to increase breast size. 
Breast implants can generally be divided into two main types; saline and silicone.
Saline implants
Saline-filled breast implants contain a soft, silicone outer shell and are filled with a sterile saltwater (saline) solution. Some are pre-filled and others are filled during the implant operation. Saline-filled implants come in different sizes and have either smooth or textured shells. The FDA approved saline-filled breast implants for breast augmentation in women age 18 or older and for breast reconstruction in women of any age. They are also used in revision surgeries, which correct or improve the result of an original surgery.
Silicone implants
Silicone gel-filled breast implants have a silicone outer shell that is filled with silicone gel. They come in different sizes and have either smooth or textured shells. Silicone gel-filled breast implants are approved for breast augmentation in women age 22 or older and for breast reconstruction in women of any age. As with saline implants, silicone implants are also used in revision surgeries, which correct or improve the result of an original surgery.
Breast implants vs breast augmentation
Still unsure of the difference between breast augmentation and breast implants? In a nutshell, breast augmentation is a surgical procedure used to increase the size of the breast. Breast implants, on the other hand, are the artificial devices commonly used within a breast augmentation procedure. One is the process of breast enlargement; the other is the tool used.
As mentioned above, there is more than one surgical procedure available to enlarge or augment the size of the natural breast. In some cases the procedure will involve insertion of an implant and in others, the body's own natural fat reserve may be harvested and repositioned in the breast. 
How is breast augmentation with implants carried out?
Breast augmentation surgery is a relatively safe, straightforward procedure and can be broken down into four main steps, as follows:
Administering general anaesthesia

Making incisions in predetermined areas on the chest

Inserting the implants

Securely closing incisions
Surgery normally takes between one or two hours to complete. After a monitored recovery period in-clinic, patients are able to leave to continue recovery from the comfort of their own home. Recovery involves sleeping in an upright position in the days and weeks immediately after surgery and reduced physical activity as directed by the plastic surgeon.
Breast augmentation at Coppergate Clinic
Coppergate Clinic's team of Consultant Plastic Surgeons are highly experienced in breast augmentation surgery as well as breast uplift surgery, breast reconstruction and surgical breast reduction for both male and female patients. If you would like to find out more about the range of breast enhancement procedures available at Coppergate Clinic, contact our friendly front of house team to book a consultation today.
You can contact us on 01904 675222, or email us at [email protected].