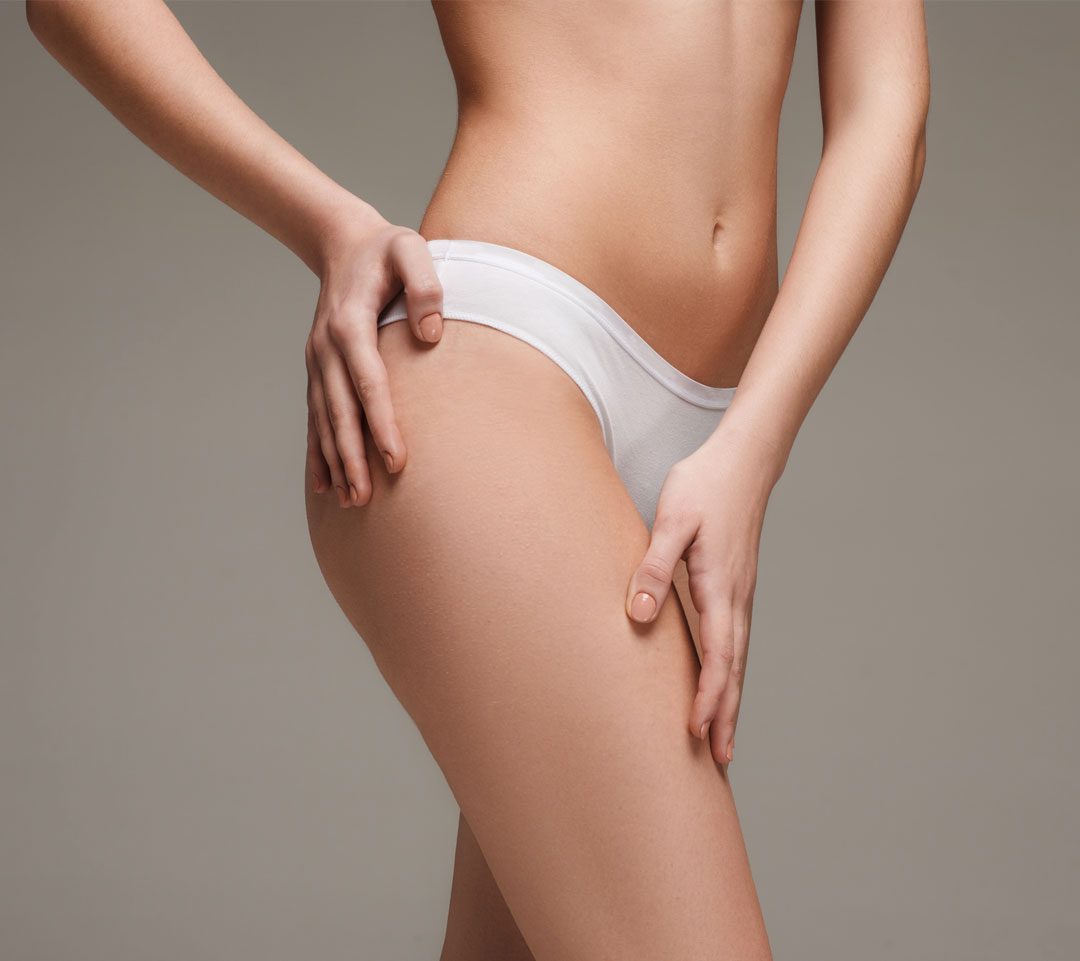 If you're looking for a solution to sagging skin and loss of tone and definition, Coppergate Clinic's ground-breaking Renuvion skin tightening system may just hold the answer. Combining several of the very latest innovations in skin tightening technology, Renuvion delivers exceptional contouring results and is suitable for the treatment of a range of problem areas. But what exactly is it, how does Renuvion work and how can you tell if it's the right treatment to tackle your area of concern? Here we explore the technology behind the results and how the procedure may help you to achieve your body contouring goals.
What is Renuvion?
FDA-approved for skin tightening, the Renuvion system combines the unique properties of helium plasma with radiofrequency (RF) energy to heat connective tissues under the skin, thus stimulating tissue contraction and the production of collagen.
This clever process tightens and shrinks the underlying tissue, in turn tightening and firming the surface of the skin whilst improving skin texture and smoothing out wrinkles.
What areas can be treated with Renuvion?
As well as being effective in tightening loose facial skin including sagging cheeks, jowls and skin on the neck area, Renuvion can also be used to treat loose areas of skin elsewhere on the body, in particular the abdomen, arms, thighs, flanks, hips and buttocks.
What are the advantages of Renuvion?
Whilst Renuvion is a surgical procedure, it is considered minimally invasive compared with many other skin tightening surgeries that generally involve skin excision (removal of skin). By comparison, Renuvion works by the subdermal insertion of a slender device. Because the device is inserted through small entry points at the treatment site, downtime is reduced, with discomfort and scarring are minimised compared with more invasive procedures. 
Another great benefit of Renuvion is that the neocollagensis process that it stimulates occurs gradually over a 6-9 month period, delivering natural results that improve over time. This is particularly appealing to those patients who prefer to keep friends and family guessing over any treatment they may or may not have had!
What is neocollagensis?
Neocollagenesis is the body's natural healing response to any kind of trauma. The term is used to describe the formation of new collagen in scars resulting from an inflammatory response to injury. This inflammation produces increased fibroblast stimulation and collagen deposits, a side effect of which is improved skin tone and texture. 
What results should I expect following treatment?
The procedure results in a contraction of the soft tissue that is often noticeable immediately after the procedure. The results will continue to improve over the next six to nine months as the body heals and collagen regenerates. Over time, post-surgical swelling will subside and incision lines will fade.
Satisfaction with your new image should continue to grow as you fully recover from surgery. In order to achieve optimal results it is important that you follow your surgeon's post-operative instructions and follow-up visits. 
Is there any downtime following treatment?
Larger body parts generally require more downtime and patients will feel more symptoms than that of smaller treatment areas. You should expect to experience symptoms for up to three weeks post treatment, including dry, peeling, itchy skin, redness, swelling and bruising and mild pain. Simple over the counter pain relief can be taken to relieve symptoms and ensure you are comfortable throughout the recovery process.
Symptoms are very rarely severe and patients can usually return to regular light activities after two to five days. It is common to experience a 'tight' sensation at the treatment site for some time post-surgery. Compression garments will be provided to aid the healing process and ensure optimum results from treatment.
How can I be sure if Renuvion Skin Tightening is right for me?
Prior to a surgical procedure of any nature, you will have multiple consultations with the same surgeon who will later perform the procedure should you decide to proceed. During this consultation process, your surgeon will guide you on expected outcomes of the procedure you are considering, comparing the anticipated results, benefits and limitations with other surgical and non-surgical treatment options. You will be informed of more specific associated downtime for Renuvion, which differs according to treatment area and from patient to patient. 
How can I find out more?
If you'd like to know more about Renuvion Skin Tightening and how it works or any other skin tightening treatment options at Coppergate Clinic, please don't hesitate to contact our friendly front of house team to book a consultation with one of our expert surgeons. Consultations are always without any obligation or pressure to proceed with treatment. They offer the perfect opportunity to discuss your area of concern and the full range of treatment options available to you, as well as giving you ample opportunity to ask any questions you may have.