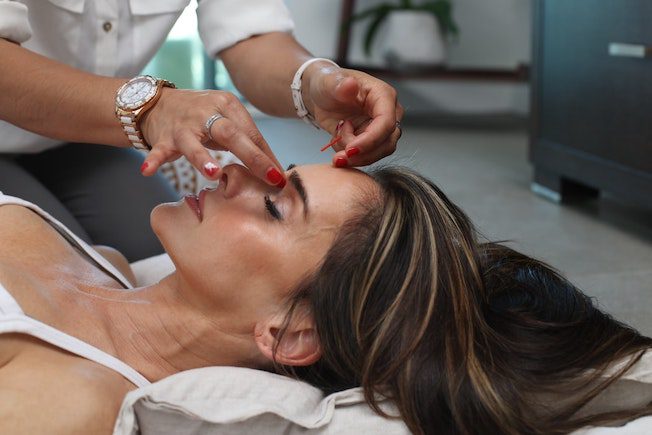 Bearing in mind that skin on the face is thinner and more sensitive than other areas of the body – and is also constantly exposed to elements – it's really little wonder that many of us develop the tiny spider veins or red veins over the years. Environmental stresses such as pollution, overexposure to UV rays, smoking, drinking alcohol and overexertion can all take its toll on our delicate blood vessels and cause them to enlarge or break, just below the skin's surface. In this blog, we look at the various treatments for red veins on the face and how to address it.
How to reduce the risk of red veins on the face
Harmless as these broken veins may be, they can still prove a nuisance or cause of embarrassment. The good news is, there are several effective ways to reduce the risk of suffering from red veins on the face, including several at-home remedies you can try. Here, we discuss our top 5:
How to minimise the risk of red veins:
1. Warm is wonderful
We are all familiar with flushed, red faces when we get too hot, but did you know that excessive heat can actually cause tiny broken blood vessels in the face? By ensuring showers and baths are warm as opposed to hot and washing your face with lukewarm or even cold water, you can lessen the chances of heat variations causing damage to your sensitive capillaries.
2. Drink in moderation
Whilst the drawbacks of alcohol consumption on the digestive system are well known, fewer people are informed on the effect drinking can have on the delicate circulatory system and appearance of the skin. When we consume alcohol, it causes the skin to flush. That redness in the face is caused by blood vessels becoming enlarged. If we drink too much or too frequently, these enlarged veins may be damaged, broken and fail to return to their original size. To minimise the risk of broken veins as a result of drinking alcohol, avoid consuming more than the recommended number of units.
3. Stay sun safe
The majority of people are well versed in applying high factor SPF on sunny days, but did you know that dermatologists and skin specialists recommend wearing a high quality sun block every day as part of your basic skincare regime? Doing so promises to offer your skin the best protection from overexposure to the sun's harmful UV rays, thereby minimising the risk of hyperpigmentation, premature ageing, and damage to the tiny capillaries under the surface of the skin.
Treating existing broken veins
In clinic treatments
One of the most effective treatments for red veins on the face is Intense Pulsed Light (IPL) technology. IPL provides a quick, safe, long-term solution to facial vascular concerns. Coppergate Clinic's red vein removal laser treatment is suitable for a variety of conditions, such as rosacea, thread veins and red spots, as well as certain unsightly leg veins. Following treatment, vessels at the treatment site will quickly clear as they are reabsorbed by the body. This means that our red vein treatment leaves little-to-no trace of the original lesion. Your skin tone will appear more even, and your complexion will be healthier and brighter.
Another popular, non-invasive treatment option for broken veins is light therapy. At Coppergate Clinic, our Aestheticians use a light therapy system called Dermalux® which combines an array of carefully arranged light emitting diodes to deliver pure, uniform, narrow-band red light that boosts both skin and mood. The therapeutic Dermalux® treatment was originally created by Cancer Research UK and is non-invasive and completely safe. Concentrated beams of LED light penetrate deep below the dermis, stimulating the activity of fibroblasts to stimulate new cell production and promote healing to treat acne scars, rosacea, age spots and blemishes caused by broken capillaries.
Whether you're looking for more advice on preventing or treating red veins and spider veins on the face, our team of medical experts are on hand and are always delighted to help. Contact us today to find out more about our range of non-surgical treatment options and topical skin care products or to book a consultation.