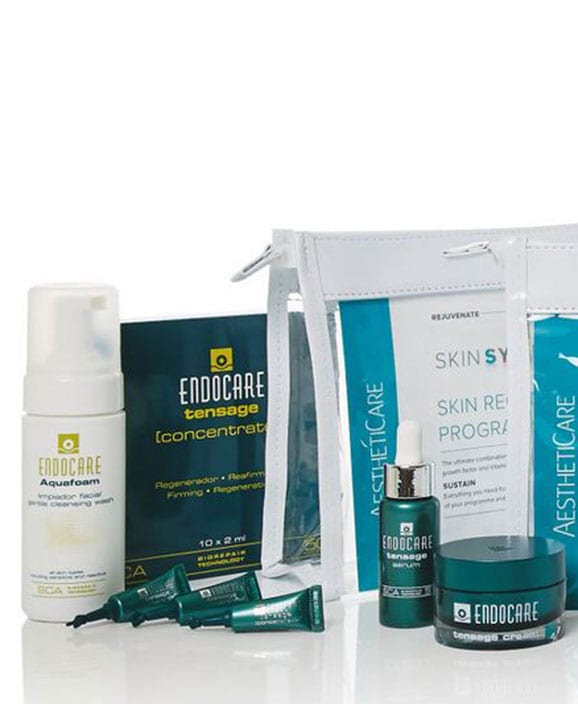 Having been huge advocates for AesthetiCare's growing range of advanced skincare solutions for several years now, we are more than delighted to confirm that their brand new, medi-grade skin programmes are now available here at the clinic.
Having been carefully created using advanced, clinically proven products the programmes promise to give you excellent results in rejuvenation, skin-ageing prevention or problem skin resolution. So whatever your skin type or age, there's a programme for you!
Each programme has been designed to give you the best results, building in intensity at times and leading to an ongoing regime. They're split into phases of between 4 and 12 weeks, with each phase being supplied in a simple but elegant pack for you, including instructions for use. At the end of each phase you will return to the clinic for the pack for your next phase.
There are programmes for each of AesthetiCare's world-leading brands; Endocare, Retriderm, Precribed Solutions, and Flavo-C. They've then combined the best technologies from across the brands to create the ultimate SKINSYNERGY programmes, maximising efficacy and the results that you will see.
On top of their rejuvenating and skin-ageing prevention programmes the beauty boffins at AesthetiCare are also launching a pigmentation-control programme, which features NeoRetin, and a redness-control programme that uses Control Tactics.
For more information on the medi-grade skin programmes, please visit the AesthetiCare website here or contact our friendly team who will be delighted to guide you on the most suitable homecare products to effectively address your specific skin concerns.
Simply submit a consultation request and we will be in touch as soon as we possibly can.