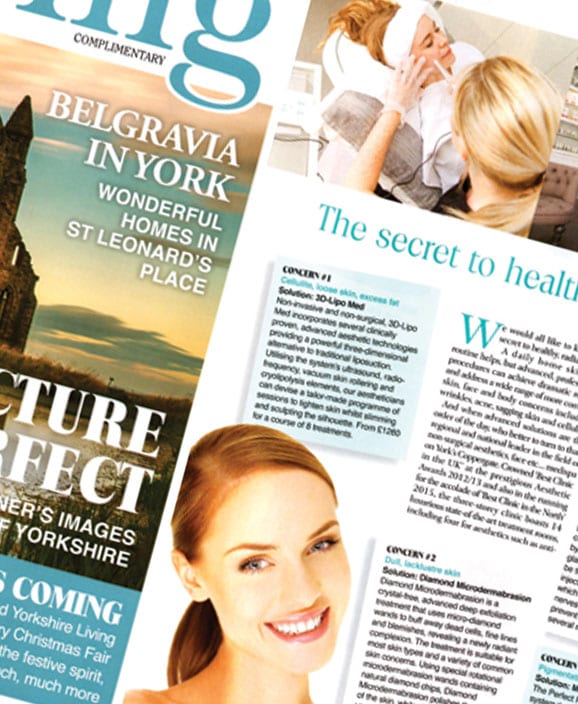 A brilliant double page feature exploring effective solutions to a number of common skin concerns with a view to achieving  healthy, radiant skin in the November 2015 issue of Yorkshire Living Magazine.
The secret to healthy, radiant skin
We would all like to know the secret to healthy, radiant skin. A daily home skincare routine helps, but advanced, professional procedures can achieve dramatic results and address a wide range of more complex skin, face and body concerns including wrinkles, acne, sagging skin and cellulite. And when advanced solutions are the order of the day, who better to turn to than regional and national leader in the field of non-surgical aesthetics, Coppergate Clinic. Crowned 'Best Clinic in the UK' at the prestigious Aesthetic Awards 2012/13 and also in the running for the accolade of 'Best Clinic in the North' 2015, the three-storey clinic boasts 14 luxurious state-of-the-art treatment rooms, including four for aesthetics such as anti-wrinkle injections and dermal fillers, skin peels and IPL hair removal.
Specialising in anti-ageing procedures, the clinic's expert team of nurses and aestheticians work to help clients look their best, smoothing and enhancing skin to create glowing complexions, boosting their body confidence and raising self-esteem. Other facial procedures offered at the clinic include radio-frequency skin-tightening, CACI non-surgical facelifts and medical micro-needling, with the team of specialists also routinely treating a variety of body concerns including cellulite, thread veins, stretch marks and scarring.
Priding itself on being a one-stop shop for mind, body and soul, the clinic even offers a range of therapeutic spa treatments, as well a wide variety of essential beauty treatments including lash extensions, manicures, pedicures and waxing. Coppergate Clinic was the brainchild of clinic director Sharon Moore who, after working in the NHS in a variety of clinical specialities for more than 20 years, decided to combine her passion for beauty with her medical knowledge by joining a leading Harley Street cosmetic surgery company as an aesthetic nurse. Recognising the demand for a specialised advanced beauty clinic in Yorkshire, she brought her skills to York and now heads a 21-strong team, treating an average of 550 clients every week.
CONCERN #1
Cellulite, loose skin, excess fat
Solution: 3D-Lipo Med
Non-invasive and non-surgical, 3D-Lipo Med incorporates several clinically proven, advanced aesthetic technologies providing a powerful three-dimensional alternative to traditional liposuction. Utilising the system's ultrasound, radiofrequency, vacuum skin rollering and cryolipolysis elements, our aestheticians can devise a tailor-made programme of sessions to tighten skin whilst slimming and sculpting the silhouette. From £1260 for a course of 8 treatments.
CONCERN #2
Dull, lacklustre skin
Solution: Diamond Microdermabrasion
Diamond Microdermabrasion is a crystal-free, advanced deep exfoliation treatment that uses micro-diamond wands to buff away dead cells, fine lines and blemishes, revealing a newly radiant complexion. The treatment is suitable for most skin types and a variety of common skin concerns. Using special rotational microdermabrasion wands containing natural diamond chips, Diamond Microdermabrasion polishes the surface of the skin, while dead skin and dirt are vacuumed away. Pores are unblocked and refined, with skin left glowing and radiant. From £50 per treatment
CONCERN #3
Excessive sweating
Solution: Toxin injections
Excessive production of sweat (hyperhidrosis) usually begins in either childhood or adolescence and is caused by an overactivity of one type of sweat gland, the eccrine gland. The condition can be treated quickly and effectively using an injectable protein called botulinum toxin which works to block the actions of the nerves that supply the eccrine glands and prevent their ability to produce sweat for several months. From £500 per treatment.
CONCERN #4
Pigmentation
Solution: Medical peels
The Perfect Peel is a revolutionary peel system that transforms ageing, dull, pigmented and scarred skin; revealing a brighter, healthier and more even complexion in just one week. Despite the powerful blend of active ingredients, The Perfect Peel can be used on all skin types and requires no pre-peel skin preparation. The process takes less than 15 minutes and is virtually pain-free. From £300 per treatment.
CONCERN #5
Scarring/stretch marks
Solution: Medical micro-needling
Medical micro-needling (also known as dermal rollering) is an increasingly popular, clinically proven form of collagen induction therapy and can be effective in the treatment of a wide range of skin conditions. It works by stimulating the body's natural regeneration and repair mechanisms, penetrating into the dermis or mid dermis to enhance blood flow and encourage the production of new collagen cells. This enhances skin tone, texture, plumpness and radiance. From £175 per treatment.
CONCERN #6
Skin tags, warts and verrucas
Solution: Advanced electrolysis
Our highly trained aestheticians use advanced electrolysis to remove blemishes from the surface of the skin, cutting off the blood supply through cauterisation to treat skin tags, warts & verrucas of any size without anaesthetic. From £65 per treatment.
CONCERN #7
Unwanted body hair/ingrown hairs
Solution: IPL permanent hair reduction
Our permanent hair reduction system utilises the latest Intense Pulsed Light technology (IPL) to safely and effectively destroy hair follicles, providing a long term solution to unwanted, excess facial and body hair. The IPL hand piece is placed on the skin, releasing short pulses of light to target many hair follicles simultaneously. The applicator is then moved to the neighbouring area of skin and the process is repeated until the entire area is treated. From £25* per treatment (a course of treatment is always necessary)
CONCERN #8
Fungal nail infections
Solution: Yag laser
Coppergate Clinic's fungal nail treatment system utilises the latest Yag Laser technology to safely and effectively provide a long-term solution to fungal nail infections and associated symptoms including discolouration and thickening of the nail. The system emits light which is readily absorbed by the water in the skin underneath and around the nail, in turn creating heat, destroying the dermatophytes and eliminating the infection. From £60* per treatment (a course of treatment is always necessary).
CONCERN #9
Unwanted tattoos
Solution: Laser tattoo removal
The expert team at Coppergate Clinic use a Q-switched laser to generate
short pulses of light to break down tattoo ink particles, breaking them down into smaller pieces, enabling your natural immune defences to absorb and disperse the ink. A gradual fading of the tattoo occurs over a series of treatments. Price per treatment from £60 (depending upon the size and density of the tattoo).
Prior to any treatment, the Coppergate Clinic team will always conduct an in depth, complimentary consultation, to find the solution that's best suited to your needs, skin type and condition. As well as helping you decide if you'd like to proceed with a particular service, it will also give you the opportunity to get answers to those burning questions you've always wanted to ask, so that whatever advanced aesthetic treatment you choose, you'll go in to it feeling informed and totally relaxed in the expert hands of one of their medically qualified and experienced practitioners or highly skilled aesthetic therapists.