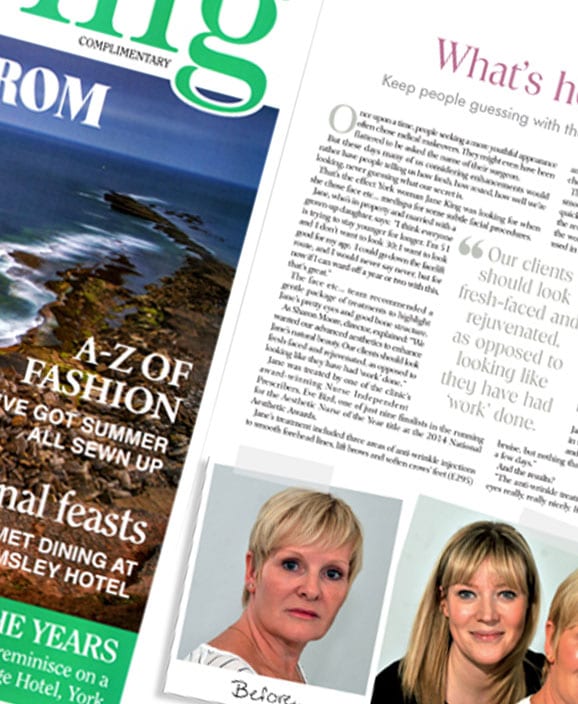 Thanks to the lovely people at Yorkshire Living for another brilliant double page feature on some of our most popular and effective advanced anti-ageing procedures; dermal filler cheek enhancement and anti-wrinkle injections. Model Jane's gives a glowing report on her clinic experience and is over the moon with her subtly enhanced features. Read the full feature here…
What's her secret?
Keep people guessing with the latest aesthetic procedures
Once upon a time, people seeking a more youthful appearance often chose radical makeovers. They might even have been flattered to be asked the name of their surgeon. But these days many of us considering enhancements would rather have people telling us how fresh, how rested, how well we're looking, never guessing what our secret is.
That's the effect York woman Jane King was looking for when she chose Coppergate Clinic for some subtle facial procedures.
Jane, who's in property and married with a grown-up daughter, says: "I think everyone is trying to stay younger for longer. I'm 51 and I don't want to look 30; I want to look good for my age. I could go down the facelift route, and I would never say never, but for now if I can ward off a year or two with this, that's great."
The Coppergate Clinic team recommended a gentle package of treatments to highlight Jane's pretty eyes and good bone structure.
As Sharon Moore, director, explained: "We wanted our advanced aesthetics to enhance Jane's natural beauty. Our clients should look fresh-faced and rejuvenated, as opposed to looking like they have had 'work' done."
Jane was treated by one of the clinic's award-winning Nurse Independent Prescribers, Eve Bird, one of just nine finalists in the running for the Aesthetic Nurse of the Year title at the 2014 National Aesthetic Awards.
Jane's treatment included three areas of anti-wrinkle injections to smooth forehead lines, lift brows and soften crows' feet (£295) and a 1ml syringe of dermal filler Juvederm Voluma (£400) for cheek enhancement.
The anti-wrinkle injections use a purified protein toxin that smooths fine to moderate facial creases, lines and wrinkles. It's a quick, minimally invasive procedure, with little to no downtime, the results of which generally last around three to four months. It's the world's favourite non-surgical treatment and has safely been used in mainstream medicine for decades.
Following an application of anaesthetic cream, the dermal filler was injected into Jane's cheek area giving immediate results. Although this differs from person to person, Jane should expect the effect of the fillers to last around six to nine months.
Dermal fillers usually contain hyaluronic acid, a naturally occurring substance broken down by the body over time. They are commonly used on the face, décolleté and hands to address creases, lines and wrinkles, as well as to restore lost volume and define lips, but Juvederm Voluma specifically targets cheeks and chins, restoring lost volume to those areas of the face.
"The treatment was genuinely pain-free" said Jane of the dermal filler. "I only had anaesthetic in the area they were going to inject with filler and I really couldn't feel anything. I had a little bruise, but nothing that you couldn't cover up with make-up for a few days."
And the results?
"The anti-wrinkle treatment smoothed out the area under my eyes really, really nicely. It's not stiff and I've still got movement when I smile. I also think the added volume in my cheeks has made me look noticeably younger and fresher.
"A couple of friends have said, 'You're looking really well', and someone said, 'Your skin looks lovely'. I think it's just as if I am a bit more rested. I would have it done again!
"I think Coppergate Clinic is lovely," said Jane. "The whole team are very professional, very friendly. When you go in you are met and greeted by really nice girls on reception and immediately made to feel at ease.
"I have been back since for a manicure, and I would highly recommend them."
Coppergate Clinic offers complimentary, obligation-free consultations on their full range of advanced face, body and skin treatments. To find out more, or to book a consultation with a member of their expert team, call or email Coppergate Clinic's friendly front of house.