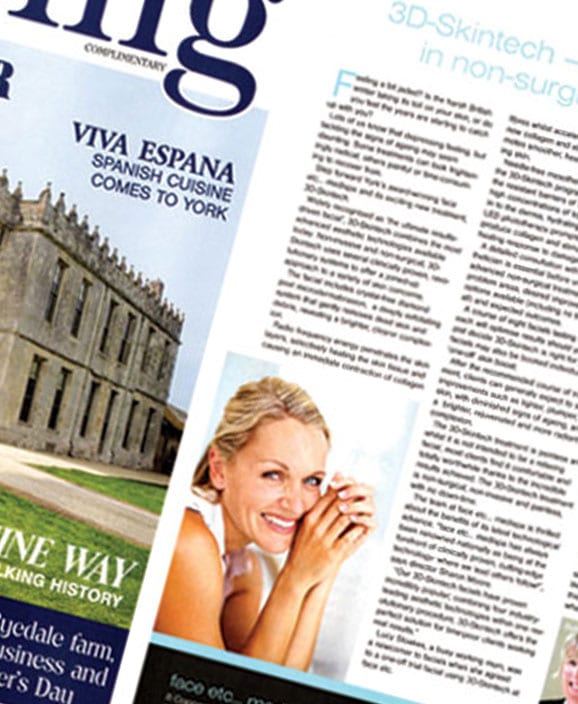 A brilliant double page feature on our revolutionary 3D-Skintech facial treatment in this months Yorkshire Living. Busy working Mum Lucy Stoakes visited the clinic to trial the treatment and was wowed by the results commenting, "I feel like I've got a brand new face". Read on for Lucy's full review and further details on this advanced rejuvenating treatment…
3D-Skintech- A new dimension in non-surgical technology
Feeling a bit jaded? Is the harsh British winter taking its toll on your skin, or do you feel the years are starting to catch up with you?
Lots of us know that depressing feeling, but tackling the signs of ageing may seem daunting. Some treatments can look frighteningly radical, others painful or time-consuming to recover from. Step forward York's award-winning Coppergate Clinic and its exciting new treatment, 3D-Skintech.
Widely recognised as the 'ultimate results-driven facial' 3D-Skintech combines the most advanced aesthetic technologies available today. Non-invasive and non-surgical, 3D- Skintech uses several clinically proven, revolutionary systems to offer a joined-up approach to a variety of skin concerns.
The facial includes crystal-free diamond peel microdermabrasion, a deeply exfoliating system that gently removes dead skin and debris, revealing a brighter, clearer complexion. Radio frequency energy penetrates the skin layers, selectively heating the skin tissue and causing an immediate contraction of collagen fibres whilst accelerating the production of new collagen and elastin fibres. This promotes smoother, healthier and younger-looking skin.
Needle-free mesotherapy, another part of the 3D-Skintech programme, breaks through the resistant barriers of the skin, transporting high concentrations of topical products deep in to the dermis, hydrating and plumping; and LED phototherapy prompts skin fibroblasts to produce collagen and stimulates the body's healing response to damaged cells.
A detailed consultation with an expert aesthetician is essential before undergoing any advanced, non-surgical treatment, to discuss problem areas, desired improvements, options available (including no treatment at all) and expected outcomes.
A course of eight facials lasting 90 minutes will optimise the results should your therapist decide 3D-Skintech is right for you. The facials may also be booked individually for a 'one-off' skin boost.
After the recommended course of treatment, clients can generally expect to see improvements such as tighter, plumper, lifted skin, with diminished signs of ageing, and/or a brighter, rejuvenated and more radiant complexion.
The 3D-Skintech treatment is painless and whilst it is not intended to be a relaxing facial, most clients find it comfortable and totally worthwhile thanks to the incredible results achieved. The 3D-Skintech treatment is non-surgical, non-invasive and painless, with no down-time.
The team at Coppergate Clinic is thrilled about the benefits of its latest technological advance. "Coppergate Clinic has always been renowned nationally as being at the forefront of clinically proven, cutting-edge technology- where we lead others follow!", says director Sharon Moore. "Our 3D-Skintech facials have proven incredibly popular; combining four industry- leading aesthetic technologies within one revolutionary procedure, 3D-Skintech offers the perfect solution for time-poor clients seeking real results."
Lucy Stoakes, a busy working mum, was a newcomer to facials when she agreed to a one-off trial facial using 3D-Skintech at Coppergate Clinic.
She freely admitted to feeling nervous but was fascinated to see if the treatment would be able to tackle some problem areas of her face – especially fine lines around her mouth.
She was put instantly at ease by her friendly therapist, Jenna, who talked her through her skin concerns and explained how the procedure would help. "She really knew the product and was extremely professional," said Lucy.
Soft music was playing in the treatment room, helping Lucy to further relax as the treatment got under way. First came the microdermabrasion, a procedure which took away the dead skin from the surface of Lucy's skin, followed by radio frequency energy, a treatment that heated up her face, working to remove old collagen and bring new collagen towards the surface. "It was like sunbathing in the Med," she said. "Very relaxing and soothing."
Next came needle-free mesotherapy, a procedure that Lucy described as tingling, like tiny electric shocks or the feeling of popping candy in the mouth, not exactly relaxing, but not uncomfortable.
Finally came LED phototherapy. During this procedure, a hydrating gel mask was placed over Lucy's face with a hole around the mouth. She wore dark goggles as the treatment was administered by a lamp-like device.
After the treatment Lucy was allowed to relax and unwind until she felt ready to leave the clinic. The results? "I feel like I've got a brand new face!", says Lucy. "I've really noticed the lines at the side of my mouth have reduced, and so has my husband.
"Things have kept improving in the days since I had it done. For a special occasion, like ahead of a wedding for example, I'd say this is definitely worth doing, and who knows what a course of treatment could achieve?"
The Technology
These technologies will be combined to ensure that the treatment is targeted to meet your specific requirements.
LED- Light Therapy
• Full canopy/full face coverage
• Four colours focusing on anti-ageing/ pigmentation/acne/ de-stress
Rotational wet/dry microdermabrasion – mechanical skin peeling
• Crystal free
• Improved client experience
• Highly effective
Mesotherapy – no-needle product infusion
• Next generation technology
• No needles
• No pain
• Delivers active ingredients where they're needed most
Radio frequency – skin-tightening
• Latest Tri-Polar technology
• Pain free
• Visible results
• Face/neck and body applications