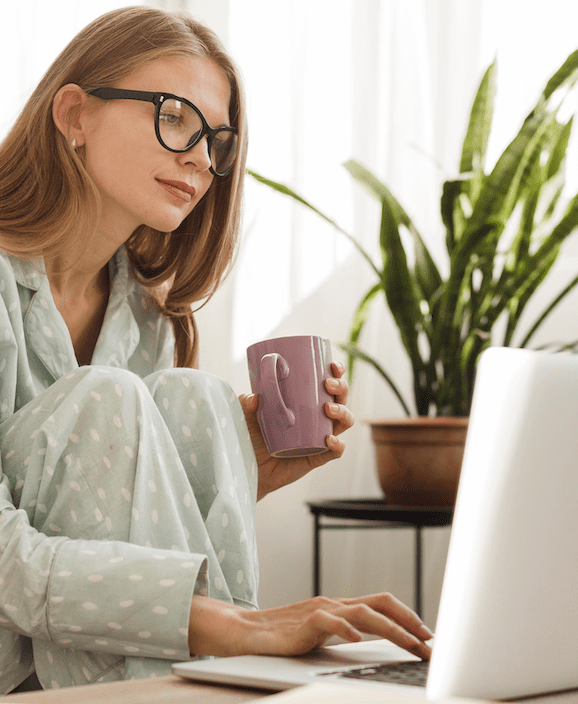 With restrictions lifted and normal life all but resumed, lockdown is thankfully becoming a distant memory. But the pandemic has had a lasting effect – perhaps the most significant for many of us being a permanently changed work landscape. Video conferencing software such as Zoom and Microsoft Teams skyrocketed in use at the height of the pandemic, and is now routinely used by many professionals who continue to work remotely.
The change in working habits has been identified as a leading factor in the surge in cosmetic surgery and non-invasive aesthetic treatments, but is more time spent in front of the camera really at the root of the increasing demand for cosmetic procedures? And is the cosmetic surgery 'zoom boom' really the phenomenon the media would lead us to believe?
Post-pandemic demand for facial procedures
Quite suddenly, the new normal has seen remote workers spending most of their week on video conferences and calls, rather than in face to face meetings. This equates to a great deal of opportunity to scrutinise the face looking back from the computer screen!
A recent survey of cosmetic dermatologists in the United States showed that 8 in every 10 patients consulted in 2021, cited videoconferencing as a factor in seeking a cosmetic consultation. Almost as many patients said they were 'somewhat-to-significantly-less-happy' with their appearance since using video conferencing during the pandemic, supporting the 'zoom face' theory that seeing more of our faces is directly linked to increased dissatisfaction with what we see.
The zoom boom and the cosmetic surgery market
According to figures by the same leading market research analysts, the global aesthetic medicine market was valued at £69 million in 2020 and is only expected to grow in the coming years.
Despite many practices temporarily closing over lockdown, the demand for facial procedures rose by almost 2% in the same period – with non-surgical procedures such as Botox and dermal fillers rising by 3.4%. Incidentally, these minimally invasive procedures had already been a key driver of growth in the field in the years immediately prior to the pandemic.
A social media driven demand?
These figures present a convincing argument for the cosmetic surgery boom, the boom itself is a natural progression from the increased demand for facial procedures that was driven by the rise of social media.
Numerous studies also suggest that smart phones, with their high resolution, selfie-facilitating, front-facing cameras have been the real driver of the aesthetics industry today. Used in combination with photo editing software and filters, people can also now easily present an ideal image of themselves to the online world.
The zoom face obsession
Unfortunately, the use of filters and editing software has led to further dissatisfaction with our 'real' selves. There has been a notable shift in patients expecting to achieve the filtered version of themselves through cosmetic surgery. This is generally neither advisable, practical or realistic – and it falls to the surgeon to responsibly guide patients on what is and is not achievable through cosmetic procedures.
On the other hand, for those patients who wish to subtly freshen and gently tweak specific areas of the face, a wide range of surgical and non-surgical treatment options are available. In particular, Coppergate Clinic has seen an increased demand for surgery to open the eye area including Upper and Lower Blepharoplasty, as well as definition restoring procedures such as the Vr Facelift and Z-Plasty Neck Lift.
For patients seeking a more Zoom-ready look without surgery, there are many aesthetic treatments available, from lip enhancement with dermal fillers, Botox for the reduction of forehead lines and wrinkles and Coolsculpting to help eliminate a double chin.
Discreet recovery
The procedures patients have been seeking since the pandemic can without doubt be traced back to more than just video calls and the cosmetic surgery zoom boom. A lot of these trends began on social media. The wearing of face masks and widespread opportunity to work from home, simply made recovery from surgery easier to disguise. Couple this with less money spent on eating out, socialising, holidays, and other leisure activities, and some patients suddenly have a higher level of disposable income available.
A new outlook
A further side-effect of the pandemic has been a shift in attitude. Having faced significant restrictions for an extended period of time, many patients have since adopted a 'seize the day' attitude to undergoing procedures they have long been considering.
Ultimately though, a treatment should only ever be performed when it is in a patient's best interests and when a patient's expectation is aligned with the anticipated results. It's not simply a case of giving any procedure to a patient because the idea appeals to them. Surgery should never be taken lightly and only ever be performed following a thorough consultation process which allows for plenty of opportunity to 'cool off' the idea.
Chat to our friendly team
If you'd like to find out more about the full range of surgical and non-surgical facial procedures available at Coppergate Clinic, please don't hesitate to contact us or complete an online consultation request today. Our friendly team is on hand and will be delighted to assist you in booking a consultation with one of our expert practitioners.